Cruises From Baltimore By Month:
Royal Caribbean and Carnival Cruise Lines offers fantastic year round cruises from Baltimore.  Baltimore Cruises 2015 offer 6, 7, 9 and 12 day options to Bermuda, the Bahamas, Florida, Canada / New England and the Caribbean.
Carnival Cruise Lines – Carnival Pride is departing from Baltimore year round with 7-day cruises to the Bahamas in 2015. You will depart Baltimore and have ports of call in Port Canaveral, Nassau, Freeport, and return to Baltimore. While in Port Canaveral you can take shuttles to Orlando Florida and visit Disney World or Universal Studios.
The Carnival Pride is still leaving Baltimore later this year, but it won't be gone for long.  The Pride will return year-round to Baltimore in spring of 2015, following a major upgrade and a winter season in Tampa. Last June, Carnival announced it was pulling out of Baltimore, where the Pride had been based year-round since 2009. A key reason: strict environmental requirements that go into effect in 2015 limiting the sulfur content in fuel that cruise ships burn of North American coasts.  Carnival is investing more than $180 million in new technology to clean fuel exhaust on nearly a third of its fleet. Carnival Pride is one of the ships that will have the "scrubbers" that will allow it to meet the air emission standards.  The ship will also get a host of new restaurants, bars and other venues as part of the Fun Ship 2.0 initiative. Those include Guy's Burger Joint; BlueIguana Cantina and BlueIguana Tequila Bar; Bonsai Sushi; EA Sports Bar; Hasbro The Game Show, and WaterWorks, a water slide and spray park. Royal Caribbean Cruise Lines – Grandeur of the Seas offers cruises from Baltimore on 6-day and 7-day Bermuda cruises to Kings Wharf in Bermuda. The cruises will stay over 2 nights in Bermuda so you can experience the island. The Grandeur of the Seas will also offer 7-day cruises from Baltimore to the Bahamas with ports of call in Port Canaveral, Nassau, CoCo Cay.. CoCo Cay is the cruise lines Private Island for you to enjoy.
Royal Caribbean will also offer longer 9 – 12 day cruises from Baltimore  to the Deep Caribbean. Experience guaranteed warmth during the cool Baltimore months. Ports include places like Tortola in the British Virgin Islands, St Thomas, San Juan and St. Martin in the US Virgin Islands.  You will also visit the fantastic private island of Labadee.
Labadee has the distinctive charm of delivering in just one place some of the best beaches of the Caribbean, a bit of History and a bright, colorful palette of arts, crafts and people. With beautiful beaches, a coaster that speeds down a hillside, an aqua park and one of the worlds largest zipline – Your Royal Caribbean cruise will guarantee thrills of a lifetime in Labadee..   Labadee. is reserved for Royal Caribbean guests only, so the only way to see Labadee is to take a Royal Caribbean cruise from Baltimore. Video on Labadee – RCCL's Private Island Paradise!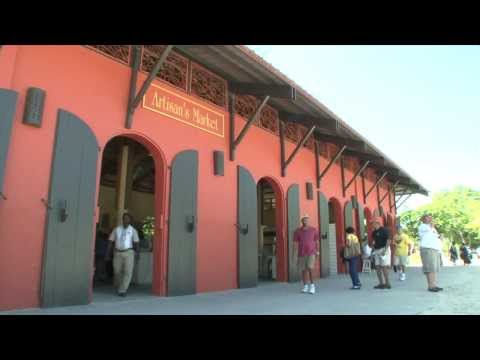 Port of Baltimore Map and Driving Directions
Port of Baltimore Driving Directions - Click Here
All Baltimore Cruises Depart from the South Locust Point Cruise Ship Terminal Directions & Parking South Locust Point Cruise Terminal Directions Passengers will find easy access to Maryland's Port of Baltimore South Locust Point Marine Terminal by private car or taxi. Address: 2001 E. McComas Street, Baltimore, MD 21230 From points South: Follow I-95 North to Exit 55, Key Highway. From the ramp, stay straight on East McComas Street. The South Locust Point Cruise Terminal's entrance is on the right. From points North: Follow I-95 South through the Ft. McHenry Tunnel, be sure to be in the right lane when going through the tunnel. Take Exit 55, Key Highway. Turn left at the traffic light onto East McComas Street. Follow the signs to the South Locust Point Cruise Terminal's entrance on the right. Parking We make it easy for you; no advance reservations are required to park in our secure lot located on the South Locust Point Marine Terminal. Ample long-term parking is located within walking distance of the Passenger Building and courtesy/handicap shuttles are available. Parking fees are payable upon arrival by cash or credit card. Passenger Cars – $15.00 per day Recreational Vehicles – $20.00 per day Busses – $25.00 per day Rates are subject to change by the Port of Baltimore at anytime. Upon arrival, passengers will drop off their luggage into our containers. Please make sure to have your cruise line issued luggage tags filled out and attached to your bags before entering our facility. After dropping off your luggage, you will then proceed to our long-term parking lot.
Port of Baltimore Website
BWI Airport Information