Cruises From Miami By Month:
The spectacular new NORWEGIAN GETAWAY.
Sailing year-round from Miami to the Eastern Caribbean.
NCL was the first company to operate modern cruise ships year-round in the Caribbean out of Miami and on  February 7th NCL's latest ship the 145,655gt NORWEGIAN GETAWAY was officially named in Miami, her new home port, by the Miami Dolphins Cheerleaders.   Locals and tourists will appreciate the NORWEGIAN Getaway's vibrant décor and her many features reflecting the Latin style and culture of Miami and South Florida.
Cruise Lines Departing From Port Of Miami
The port of Miami is one of the busiest ports in the world and offers 148 different cruise itineraries on 11 cruise lines. Cruise lines from the Port of Miami in 2014 and 2015 offer an endless array of options to destinations around the world. Choose from a 3, 4 or 5 day cruise to the Bahamas, 7 or more days to the Caribbean, South America, travel through the Panama Canal, the Orient, Europe – and even Alaska. The destinations and the length of your cruise vacation are up to you. There are cruises departing Miami all year but the summer months see a slow down. Many ships relocate to Alaska and Europe – but they will all come back to the warmth of Miami in the Fall.
Eastern Caribbean Cruises departing from Miami are offered on a variety of cruise lines.  Typical ports include St. Thomas, San Juan, St Maarten and Tortola. Eastern Caribbean cruises are offered year round.
Most cruise lines from the Port of Miami cruise an alternating itinerary of Eastern and Western Caribbean. Typical ports include Key West, Cozumel, Jamaica, Grand Cayman, Belize and Roatan. Explore the diversity of the island nations and Central American countries.
Many Royal Caribbean ships have port in there Private Island of Labadee.  This paradise has just added many new features and will create unforgettable memories for kids as well as adults.  Watch the Video below to preview this unique and exotic island.
There are a variety of shorter cruises from Miami to the Bahamas. These 3 and 4 night cruises typically have ports in Nassau, Freeport and Key West. Some cruise lines, such as NCL, have their own private island for you to enjoy.
Disney Cruises from Miami on the Disney Wonder and Disney Magic.  The excitement of a Disney Cruise now departs from Miami. There are several itineraries including the only cruise to offer 3 ports on a 4 day cruise. Cruise to Nassau, Key West and your private island – Castaway Cay in the Bahamas. Great Disney family fun all from the convenience of the Port of Miami.
Video on Labadee – RCCL's Private Island Paradise!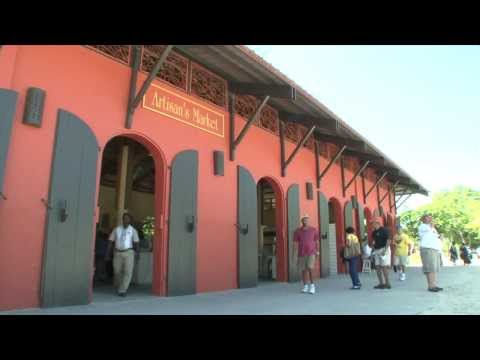 Port of Miami Map and Driving Directions
Port of Miami Driving Directions - Click Here
Directions to the Port:
Miami – Directions and Parking Address: Port of Miami Terminals #8 and #9 1741 and 1751 Africa Way Dodge Island Miami, FL 33132
Travel Time: • 8 miles from the Miami International Airport; travel time is approximately 25 minutes. • 25 miles from the Fort Lauderdale International Airport; travel time is approximately 45 minutes.
Traveling from I-95 North or South – • Exit at I-395 east toward Miami Beach (Exit #2D) • Follow the directional signs to Biscayne Boulevard (Exit #2A/#2B) • Follow directions for Biscayne Boulevard South; turn right at the traffic light/stop sign • Stay in the left lane • The entrance to the Port of Miami is at Biscayne Boulevard and Port Boulevard (N.E. 5th Street) • At the traffic light, turn left at Port Boulevard (N.E. 5th Street) • Proceed over the bridge and follow the directional signs to Terminals #8 and #9
Traveling from the West Coast of Florida – • I-75 East toward Fort Lauderdale • I-595 East toward Fort Lauderdale • I-95 South toward Miami • Exit at I-395 east toward Miami Beach (Exit #2D) • Follow the directional signs to Biscayne Boulevard (Exit #2A/#2B) • Follow directions for Biscayne Boulevard South; turn right at the traffic light/stop sign • Stay in the left lane • The entrance to the Port of Miami is at Biscayne Boulevard and Port Boulevard (N.E. 5th Street) • At the traffic light, turn left at Port Boulevard (N.E. 5th Street) • Proceed over the bridge and follow the directional signs to Terminals #8 and #9
Parking: $20 per day (rates subject to change by the Port Authority) • Six-story, 1,400 space parking garage • Full payment due upon exiting the parking garage • Accepted forms of payment: U.S. dollars, U.S. Traveler's Checks • No advance reservations required • Due to height restrictions, oversized vehicles will need to utilize the adjacent outdoor parking facilities. Cost is $30 per day • For more information: 305-347-4933
Port of Miami Website
MIA Airport Info